Dubai SME - Licence fee exemption for Emirati members has been extended for another seven years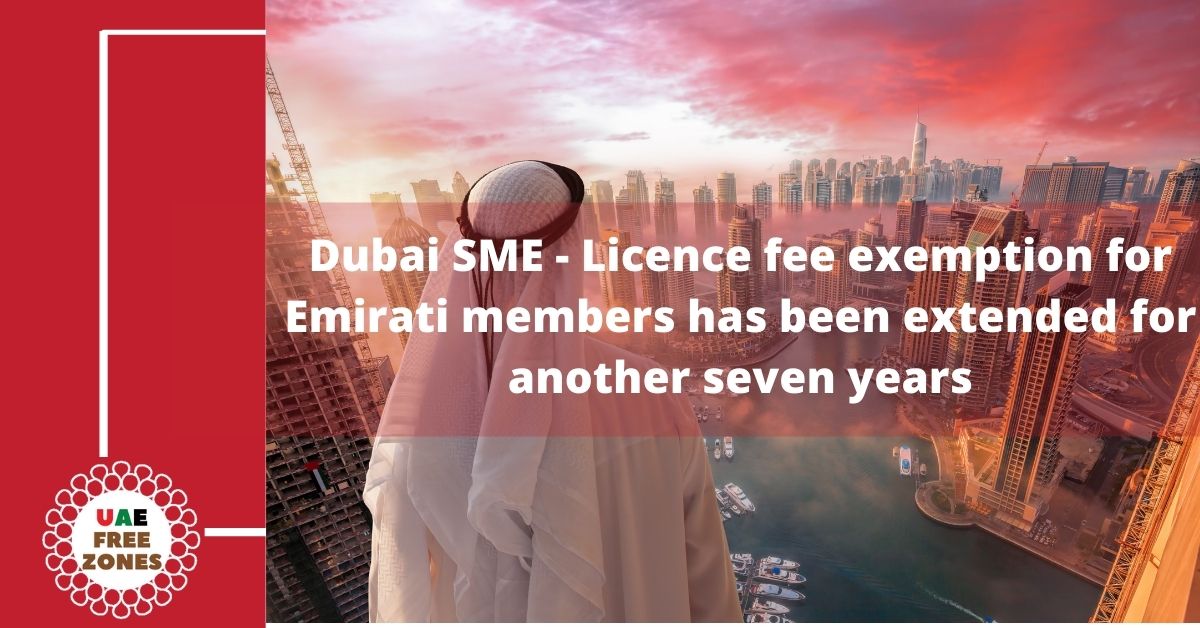 DUBAI, November 21, 2021: The Government of Dubai has extended the five-year exemption granted to Emirati members of Dubai SME under Article No. (10) of Law No. (23) of 2009 to seven years, following the directives of H.H. Sheikh Hamdan bin Mohammed bin Rashid Al Maktoum, Dubai Crown Prince and Chairman of The Executive Council.
The decision is one of a series of actions aimed at assisting entrepreneurs and their businesses in fully overcoming the hurdles posed by the worldwide COVID-19 epidemic and focusing on their growth without worrying about cash flow.
"The major factor that set Dubai apart globally in managing the pandemic efficiently was the swift action taken by our strong and decisive leadership and government. As a city aiming to be future-ready and the best place in the world to live, work and visit, strengthening economic resilience and supporting businesses of all sizes to sustain growth will remain a top priority for Dubai," stated Helal Saeed Al Marri, Director General of Dubai's Department of Economy & Tourism.
"Emirati entrepreneurs should be particularly supported and motivated since they are critical to ensuring the sustainability of the labour market and building a competitive national cadre, a key target emphasised once again by the leadership in the 'Projects of the 50.' The fee exemption will help SMEs in Dubai focus on asserting their demonstrated role in pioneering innovations across sectors, especially in advanced technology, healthcare and vital services," added Al Marri.
H.H. Sheikh Hamdan bin Mohammed praised the importance of SMEs in continuing to develop new possibilities and presenting the UAE as a robust economy and worldwide center for entrepreneurial breakthroughs. "Creating an exceptionally competitive and flexible landscape for SMEs is an integral part of His Highness Sheikh Mohammed bin Rashid Al Maktoum's vision to elevate Dubai's status as a global hub for entrepreneurial innovation, while also consolidating our rich entrepreneurial traditions into a catalyst for economic diversification and sustainable economic growth," His Highness continued.
The licensing price for SMEs was AED 1,000 for the first three years after the license was issued, and AED 2,000 for the fourth and fifth years, according to Article No. (10) of Law No. (23) 2009. The five-year exemption provided before helped entrepreneurs reduce their financial constraints, allowing them to continue playing an active part in Dubai's and the UAE's economic growth.
Since 2018, the Department of Finance, in collaboration with the General Secretariat of the Executive Council and Dubai SME, has launched a series of initiatives for small and medium-sized businesses, including allocating 20% of government purchases to Dubai SME members, special deals on primary and final insurance, and accelerated payment of corporate dues, among other benefits granted by Law No. 12 of 2020 on Contracts and Waivers.
Small and medium-sized businesses (SMEs) account for approximately 95% of all businesses in Dubai, employing 42% of the workforce and producing around 40% of the emirate's GDP.
Extending the full refund follows a series of incentives and support provided by Dubai SME in response to a government instruction to guarantee company continuity during the epidemic and following preventative steps. The latest exemption will be especially beneficial to SMEs that have been unable to take advantage of incentives and support as a result of business activity limitations during the previous two years.
Since 2002, Dubai SME has provided over AED995 million in incentives and relief measures to 10,803 member SMEs. The fee exemption is now extended to registered members of Dubai SME who have not fulfilled the five-year term specified in Article No. 10) of Law No. (23) 2009. The extension is not available to new members.
Source: Emirates News Agency