DMCC License – what you need to know about it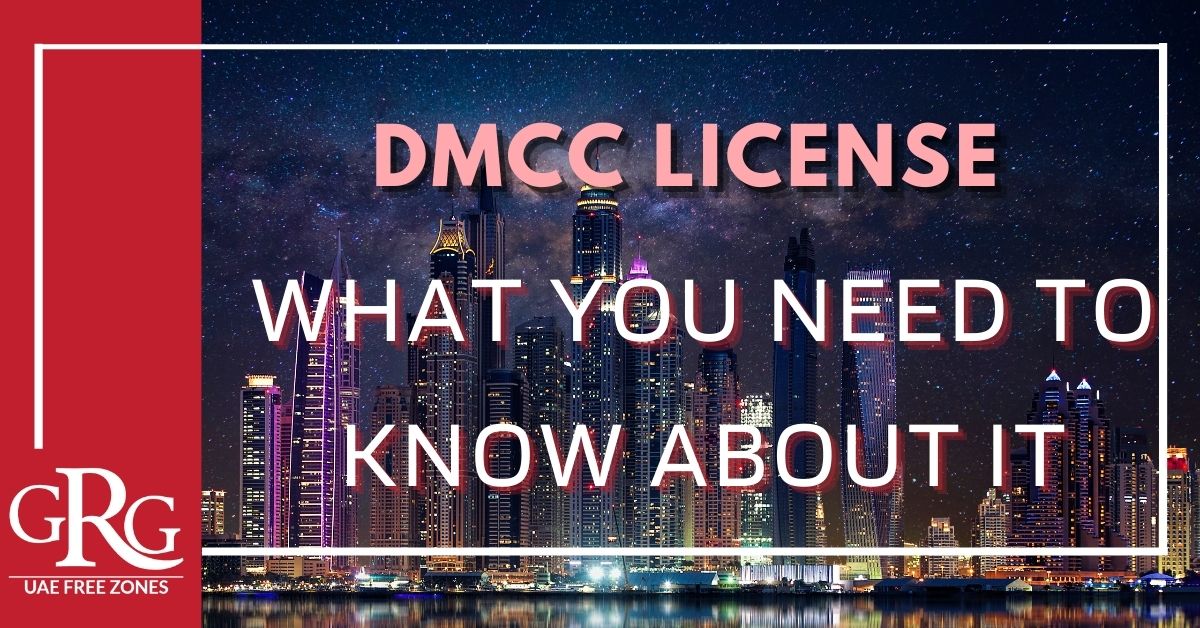 A DMCC license is one of the most powerful in the UAE, and it is well-known by many authorities, including banks, government regulatory agencies, law enforcement agencies, and others. This makes it simple for you to carry on with your everyday business activities once it has been issued in the UAE.

DMCC (Dubai Multi Commodity Centre) - located in Jumeirah Lakes Towers and designed for trade, DMCC has everything to set up, grow and build your business. Three times crowned 'Global Free Zone of the Year' by the Financial Times magazine, DMCC is home to a vibrant community, innovative infrastructure, world-class services and an attractive choice of properties, all minutes from excellent air, sea and road links to the world.

DMCC License – steps to get it

Each enterprise must receive a license for a certain type of activity while enrolling in the DMCC free zone. It is illegal to perform any business activity on the free zone's land without first obtaining a license from the Emirate's government.
The following are the several types of DMCC licenses

Trading License - Allows just the specified classes of commodities to be traded. A General Trading License permits you to trade any permissible item.
Service License - permits you to deliver the services listed in the license as well as consultancy services
Industrial License - This sort of DMCC license permits you to carry out light manufacturing operations that are described in the license.
The applicant must meet the following requirements in order to receive and maintain a license:

have a valid DMCC Administration business registration
have a valid rental agreement or freehold title to real estate
Do not clash with any part of the DMCC Rules and any other laws, rules, and regulations applicable in Dubai and sections of UAE federal legislation.
From the date of issuance, DMCC licenses are valid for at least 12 months.

Licenses must be renewed at least 30 days before to the existing license's expiration date. Failure to comply with this condition will result in the imposition of a tariff penalty and the permanent revocation of the license, refusal to meet the application for DMCC license renewal, or termination of a company's DMCC registration.

The firm must do the following when applying for a license renewal:

Continue to meet all of the standards that were in place when you initially got your license;
Be able to show that you're in excellent financial shape by producing your most recent audited financial statements or audit report.
Give documentation that the company does not owe the DMCC Administration any rent arrears, charges for accessing the JLT Infrastructure, penalties, or other expenses.
DMCC license renewal costs must be paid following the rates.
Set up a DMCC dual License

Companies that do specific operations in the DMCC Freezone are eligible for a 'Dual Licence' onshore, which permits them to have an onshore Department of Economic Development (DED) license in addition to their Freezone license.

1. On the DED Trade Licence, this DMCC Dual Licence appears as a 'branch' of the Freezone company, even though it is not a real UAE Foreign Branch. It will not be considered a separate legal entity and will not require Ministry of Economy registration.
2. The DMCC Dual Licence is only permission, not a real Freezone subsidiary. The Freezone firm is still the only one that may issue invoices, recruit employees, and conduct business.
3. Only DMCC firms with a service licence and one or more of the authorized service activities are eligible to apply for a NOC to operate onshore, provided they fulfill the eligibility requirements. From the date of issuance, the NOC is valid for 90 days. 4. The firm must approach the DED with the DMCC's NOC and meet all of the DED's conditions in order to get the permit to operate onshore.
The firm must approach the DED with the DMCC's NOC and meet all of the DED's conditions in order to get the permit to operate onshore.
5. When applying for the Dual Licence Permit with the DED, the General Manager will need to pass the consultancy exam held at the American University of Dubai.
Benefits of DMCC Free Zone

Free Zones in UAE are specific areas where companies may be set up with designated licenses and 100% foreign ownership. It is vital to fully understand your options before deciding to form your company in the UAE.
Launched in 2002, DMCC is the dedicated global centre for more than 13,000 businesses from various industries and sectors, as diverse as agro, energy and financial services to diamonds, gold and base metals.
0% corporate and personal tax for 50 years;
100% foreign ownership;
Simple set up process, assistance with sponsorship of employees and many other UAE government related services, which incorporate a wide range of affordable property choices.
Move your business to DMCC Free Zone

UAE Freezones offers a bespoke advisory service that gives clear direction and guidance to savvy investors who want to set up their operations in the Emirates, whether onshore or offshore. Also, UAE Freezones helps you with additional legal stuff such as:
Draft documents, assemble files and manage submissions, translations, notorisations and legalisations
Visa and work permit processing with Emirates ID
Partnership options for Professional, Branch Office and UAE Offshore Company.
Seek approvals from Economic Department, Ministries, Department of Planning and Civil Defence.
Set up Company Bank Accounts.
Select DMCC's Prime Plus Package when setting up a business in Dubai and get two season passes that offer unlimited entries to the Expo 2020 site from 1 October 2021 till 31 March 2022.