Dubai Multi Commodities Centre

DMCC (Dubai Multi Commodity Centre) - located in Jumeirah Lakes Towers and designed for trade, DMCC has everything to set up, grow and build your business. Three times crowned 'Global Free Zone of the Year' by the Financial Times magazine, DMCC is home to a vibrant community, innovative infrastructure, world-class services and a stunning choice of properties, all minutes from excellent air, sea and road links to the world.

Startup offer valid until 31 July 2021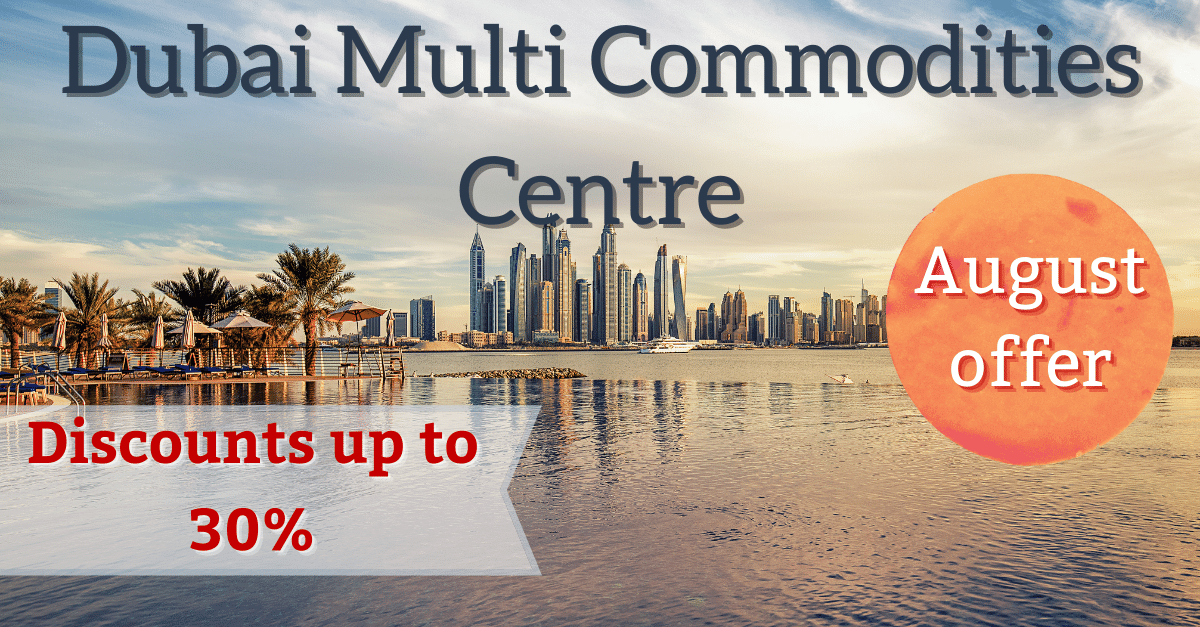 Package valid until 31 August 2020, and includes a 33% discount or 1 year for free on 3-year licence renewals
New support measures, applicable to DMCC's existing member companies, include:
33% discount on 3-year licence renewal (or 1 year for free)
25% discount on 2-year licence renewal (or 6 months for free)
20% discount on 1-year licence renewal
30% discount on additional licence
100% waiver on change of address fee for relocating from physical office to DMCC Business Centre
100% waiver of the office sharing permit fee
100% waiver of late renewal penalties for expired licences
100% waiver of late renewal penalties for expired leases
50% on license reinstatement fees if the company license was terminated by an authority due to non-license renewal
50% discount on dormancy fees
2 months' rent holiday for Flexi Desk and DMCC Business Centre tenants or monthly/quarterly instalments with no discount
Enjoy amazing amenities in DMCC
Free Zones in UAE are specific areas where companies may be set up with designated licenses and 100% foreign ownership. It is extremely important to have a full understanding of your options before deciding to form your company in the UAE.

Launched in 2002, DMCC is the dedicated global centre for more than 13,000 businesses from a wide range of industries and sectors, as diverse as agro, energy and financial services to diamonds, gold and base metals.

0% corporate and personal tax for 50 years;
100% foreign ownership;
Simple set up process, assistance with sponsorship of employees and many other UAE government related services, which incorporate a wide range of affordable property choices.
The objectives of DMCC
Creation of a dedicated market place in Dubai;
Increase the value and volume of commodities traded in and through the region;
Facilitation and integration of the entire value chain of its key segments;
Broaden the local market horizon e.g. Refining – Manufacturing – Trade;
Create industry specific market infrastructure for its core segments, innovate new products and services;
Provide a supportive business environment through purpose-built infrastructure.
Promote regional industry growth;
Enhance local industry through implementation of international standards.
Types of licenses in DMCC
Trading License;
Service License;
Industrial License;
Company formation in DMCC Dubai
Foreign investors who want to benefit from business setup in DMCC should be aware of the fact that there is a wide range of free zones in this country where they are offered special conditions for performing businesses.

Company registration and formation in the United Arab Emirates is authorized by the Company Registry Office, Chambers of Commerce and Industry, Federation of UAE.

Get professional advice from our experts for setting up a business in DMCC Dubai
Advice and consultancy—what corporate structure best suits your current and future plans
Draft documents, assemble files and manage submissions, translations, notorisations and legalisations
Visa and work permit processing with Emirates ID
Partnership options for Professional, Branch Office and UAE Offshore Company.
Seek approvals from Economic Department, Ministries, Department of Planning and Civil Defence.
Set up Company Bank Accounts.

Company Setup in Dubai Multi Commodities Centre (DMCC) Freezone


The DMCC's objective is to establish an innovative trading centre in the heart of Dubai to facilitate the trade of global commodities and to create an international gateway to the markets of the Middle East.

If you need information regarding setting up a business in Dubai Multi Commodity Centre, our local advisors are happy to assist you.

We look forward to doing business with you!