Dubai South

Dubai South Free Zone (prev. known as Dubai World Central) is a development currently under construction, which will serve as an economic zone to support a number of activities including logistics, aviation, commercial, exhibition, humanitarian, residential and other related businesses around Al Maktoum International Airport. Dubai South has a planned annual capacity of 12 million tons of cargo and 160 million passengers. The construction area is 145 square kilometers, almost two times the size of Hong Kong Island.

Dubai South Offer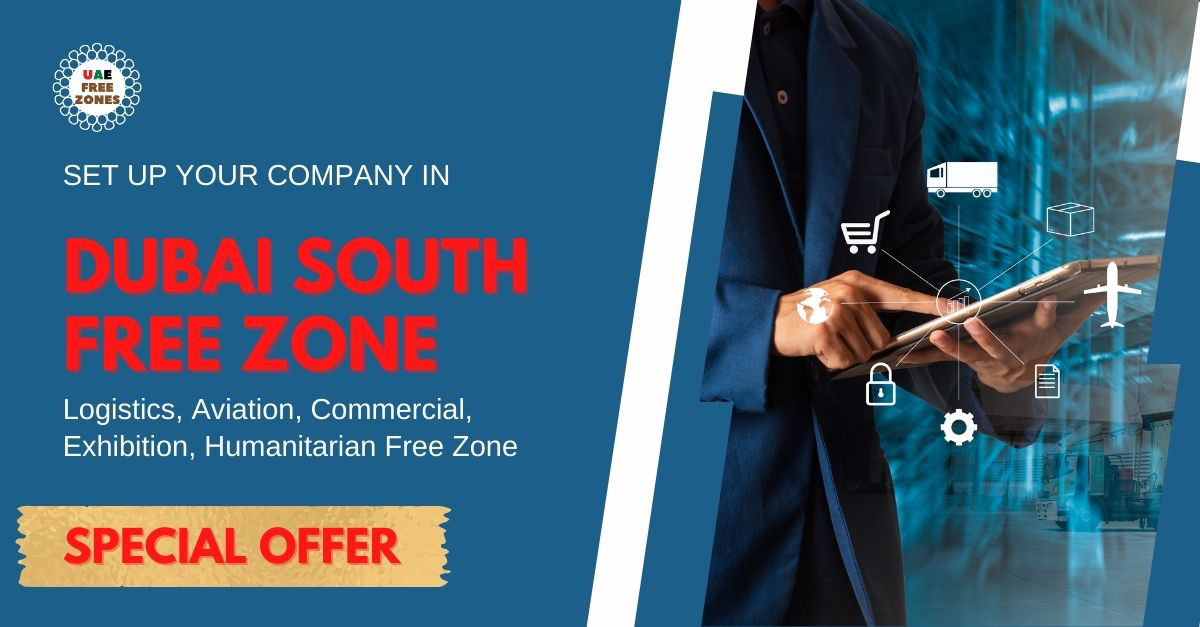 Smart desk is a flexi desk , can be used 5 hours a week 1 hour daily
Smart office is a shared office , Not a private office . Can be used 5 hours a week 1 hour daily
Permanent facilities are leased to clients with no subjected hours of usage . They have the keys and also the desk facility is permanently used by them.
Off course all our facilities have first 5 hours free usage of the meeting room , prior booking is required. After that they are charged AED75 per hour.
For more information please contact us!
Dubai South Residential City
Dubai South –The City of You – is an emerging 145 sq. km. master-planned city based on happiness of the individual.

Covering 145 square kilometres, Dubai South is divided into mini-cities such as Residential, Commercial, Aviation, Logistics and Golf, apart from the airport and Expo 2020 site.

Identified as the emirate's flagship urban project, Dubai South is centered on the vision of His Highness Sheikh Mohammed bin Rashid Al Maktoum, Vice President and Prime Minister of the UAE and Ruler of Dubai. According to Dubai South officials, the royal vision is reflected in the themes of Dubai Plan 2021, which apply to Dubai South as follows:

To become a city of happy, creative and empowered people;
To become the preferred place to live, work and invest;
To create an inclusive and cohesive society;
To build a smart and sustainable city;
To become a pivotal hub in the global economy.
Dubai South Free Zone master plan
Dubai South Free Zone master plan comprises of the following:

Aviation District

The 6.7 sq. km. Aviation District serves as an Integrated Aviation Eco System dedicated to the aviation sector. The District is also the permanent home of the Dubai Airshow, the Middle East Business Aviation Show and the VIP Terminal.

Logistics District

The Logistics District is a multimodal platform for companies affiliated to the supply chain. The district offers build-to-suit as well as ready-to-use facilities designed to serve contract logistics, integrators, freight-forwarders and agents. Airside access to the Al Maktoum International Airport facilitates air cargo operations.

Business Park

The Business Park offers flexible office spaces – from start-ups to SMEs and large corporations – in diverse sectors. It also features a business center that provides office solutions operating 24/7.

Dubai South area
Everyone knows that Dubai is one of the dream destinations for people who wish to set up a new business in the UAE.

The Dubai South area will eventually house 1 million people with mixed accommodation that includes villas and apartments. The residential district covers 715 hectares of area with many projects scheduled to coincide with Dubai Expo 2020.

Business facilities in Dubai South
100% tax free operations;
Full foreign ownership;
100% repatriation of capital as well as profits;
0% tax as well as no duty tax for import and export;
Flexible commercial lease terms;
Wide range of business activities;
Minimum documentation required to set up a business;
Direct access to Jebel Ali Sea Port and Al Maktoum Airport;
No proof of share capital, no currency restrictions, competitive rates;
State of the art facilities.
Types of licenses available in Dubai South Free Zone
Industrial License: light manufacturing activities;
Logistics License: issued only for logistics services;
Trading & General Trading License: import; export, distribution and storage of specific products specified in the License; sale of the products within the UAE market through a local distributor;
Service License: issued for services specified in the License within the Dubai South, but not restricted to;
Education License: educational and social services; educational and training, and educational consultancy services.
Start your business in Dubai South with UAE Freezones
A company formation in Dubai is a relatively simple and speedy process with strong incentives, especially in the form of the UAE's free zones, but it is always recommended to look for expert advice from professional consultants before commencing business activity. UAE Free Zones handles business formalities and support services required for your business set up. Our professional team will study your requirements and help you achieve your goals.

If you are looking to set up a business in Dubai South Free Zone, please get in touch with us for professional assistance.